Is XRP having a GameStop moment? It's currently up about 45% to $0.41! And decentralized exchanges (DEXs) are on track to facilitate $56 billion in monthly volume – more than 2x the previous record: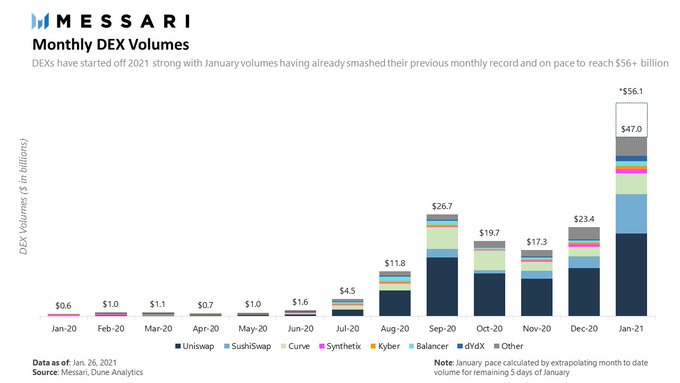 This Crypto Exchange Is Listing Every Stock Booted From Robinhood
Seattle-based Bittrex today launched tokenized stocks for GameStop and other companies that have been booted off Robinhood. The listings include AMC Entertainment, Nokia, BlackBerry, Nokia Corporation, and iShares Silver Trust—all companies which are being eyed-up by internet traders who want to give the finger to Wall Street. And Bittrex isn't the only exchange capitalizing on the restrictions: FTX announced today that it was listing a WallStreetBets (WSB) index quarterly futures contract in light of Robinhood's move. And on Thursday it made GameStop's stock for tokenized futures and spot trading.
CipherTrace: Majority of 2020's crypto thefts occurred in the DeFi space
Volume on decentralized finance (DeFi) platforms was at an all-time high in 2020 — and so were the number of attacks and thefts in that arena, according to blockchain analysis firm CipherTrace's Crime Report. Over 50% of crypto thefts in 2020 stemmed from DeFi attacks, adding up to $129 million. That's more than 25% of the year's total volume from hacks and other incidents.
Security and Convenience of Digital Currencies
Digital currencies store balances in anonymous electronic addresses. This Bank of Canada paper analyzes the trade-offs between the safety and convenience of aggregating balances in addresses, electronic wallets and banks. In its model, agents balance the risk of theft of a large account with the cost of safeguarding a large number of passwords for many small accounts. Account custodians (banks, wallets and other payment service providers) have different objectives and trade-offs along these dimensions. It analyzes the welfare effects of differing industry structures and interdependencies. In particular, it examines the consequences of "password aggregation" programs, which, in effect, consolidate risks across accounts.
Ripple Responds to SEC in Court, Alludes to Bias in Ether Classification
Ripple introduced a detailed response that addressed allegations surrounding the U.S. Securities and Exchange Commission (SEC) lawsuit filed against the firm in December. It states that there is no significant differences between XRP's function and that of Bitcoin and Ethereum. But, while the SEC recognized the two most popular digital currencies as non-securities, the agency turned around and said the opposite was true for its own token. Ripple has also filed a Freedom of Information request with the SEC, asking the agency to explain why it said ETH was born a security, but eventually evolved into a non-security.
* The views expressed herein are those of the author and should not be attributed to the International Monetary Fund, its Executive Board or its management.